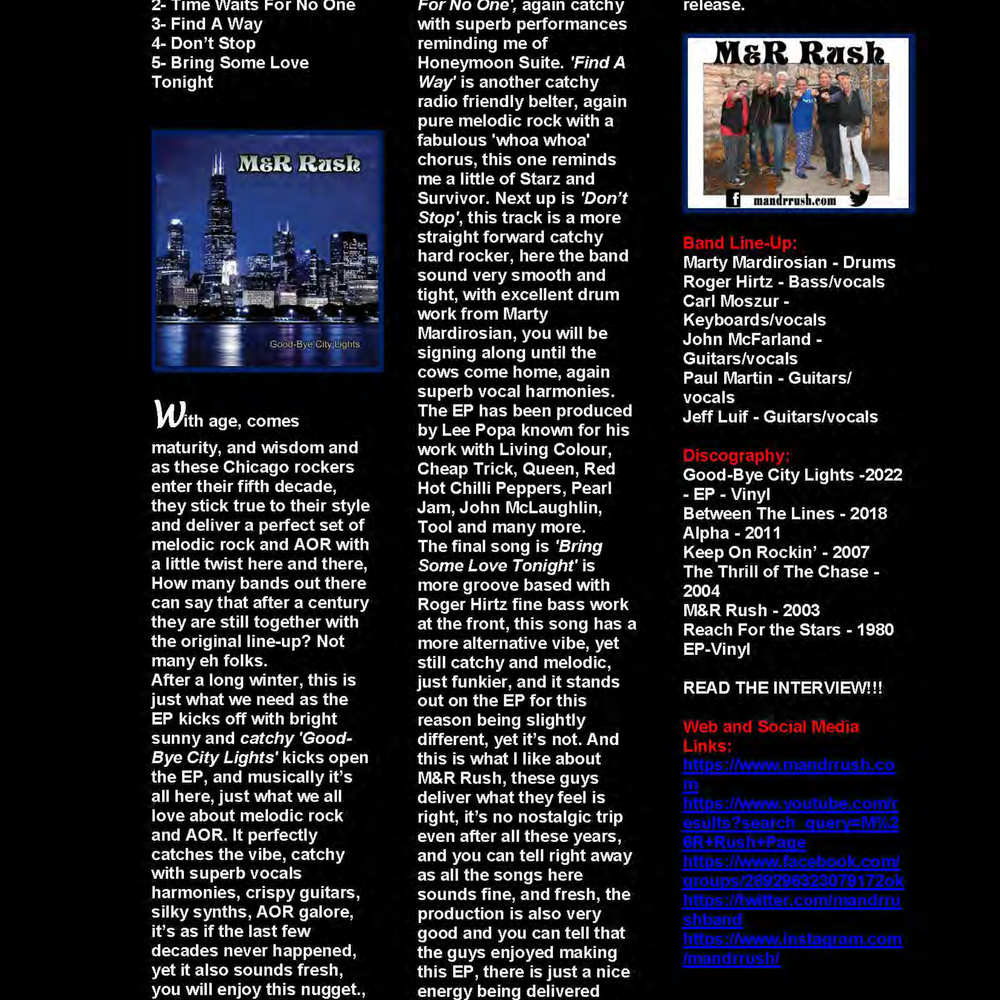 Powerplay Magazine in the UK contacted us and did a nice review of our latest record "Good-Bye City Lights" Here is the review.
Written By Ken Voss January 7, 2021
Illinois Rock & Roll Music Archives 
  M&R Rush 
It all started in high school in the early '70s for drummer Marty Mardirosian, bass player Roger Hirtz, keyboardist Carl Moszur, along with guitarists Paul Martin and John McFarland. Now, nearly 50 years later the quintet of musicians is still together entertaining Chicago area audiences as M&R Rush. 
Growing up in the Roseland neighborhood, like many high school musicians, they had a dream of making it big in the music business. Winning a couple local "battle of the bands," that dream was starting to become a reality. The visibility got the group signed with VJD Associates, a Chicago-based management company who was at the time also guiding the career of Styx in their early years. Putting M&R Rush on stage as an opening act in front of 1,500-2,000 people, they soon themselves started building a following. 
One of the keys to the longevity of M&R Rush's career is one of the lessons they learned very early – this is a business. As much as they can be great musicians, it takes effective business management to make it work. Under the guidance of Mardirosian's father, who was acting as their manager, from the start the band had a bookkeeping and accounting system in place, and were even paying taxes on their earnings while they were still in high school. 
The other key factor that has kept them together comes from management and communications and understanding one another. Early on, they got the baggage of personality and musical difference of opinion that often has a tendency to destroy bands, out of the way. 
The band kept building a following. They played the high school and college circuit. Marketing-wise, they built a mailing list of some 10,000 names (the "social media" marketing of the time). In 1980, Chicago radio station WLUP chose M&R for inclusion on their local artist compilation Chicago Rocks, Volume One with the track "Rock 'n Roll Chicago," which became somewhat of a city anthem. They followed that up with their own record, a four-song 10" EP Reach for the Stars. When they were in their 20's they continued on in the Midwest college circuit and became one of the top drawing acts on the regional club circuit. 
The band was on the verge of signing a major label contract when the bubble burst. They were in negotiation with label boss Ron Alexenberg, who had been a top A&R man for Columbia/Epic Records and was heading up the Handshake label in partnership with the Ariola International Group. He contacted the band and asked if they could put together a quick showcase for some of his people in Chicago. Within days, they set up a show on a Wednesday night at a club in Berwyn. As the show ended, Alexenburg told them to give him a call on Monday. The band felt they achieved what they had worked so hard for. 
Then Monday came. They called. But did not get the answer they expected. It was the early '80s, and the record industry was going through major shakeups. Alexenburg told them that the label was going to be filing bankruptcy, and it wouldn't be fair to sign the group. Shaken, M&R Rush saw the end of the road in sight. 
Martin left and joined with Roman Sawczak in the Dancing Noodles, working with local radio DJ/celebrity Steve Dahl. M&R Rush replaced Martin with guitarist Jeff Luif, who owned the local Star Trax recording studio. A change in band members left them feeling a change in name was necessary and they became Eminar. Their path and following didn't vary. As Eminar, they released the album Set the Street on Fire in 1984, and a single "Goodbye City Lights" b/w "First Time I Saw Her" in 1986 on their own Ready label. 
But they couldn't find any other major label interest. Facing the reality of the situation, with the guys turning 30 and starting families, they felt they had given it a shot and decided the time had come for them to go out and find real jobs. 
Friends since high school days, they remained friends, and each year would get together for a social reunion. After some 16 years, with their kids growing up, the kids were prompting them to do a reunion show so they'd get a better understanding of what M&R Rush was all about. Agreeing, they – all the original members – started rehearsing. 
Come 2003 and their friend Jim Lenz at Paradise Artists puts them on a show opening for Foghat in Hoffman Estates. The blood for M&R Rush was flowing again. Suddenly, they're back, doing 15-20 shows a year. 
Another 15+ years has passed, the families have grown, and the band still enjoys playing. 
Every couple of years, they release a new album, much of which consists of original material they continue to write. In 2014, they released a DVD – An Evening of M&R Rush Live at the BAC. The most recent release Between the Lines features nine new originals, plus a previously unreleased song written by Jim Peterik, of which Mardirosian comments, "It's such a great honor that Peterik would feel one of his songs fits us." 
They realize their position in the marketplace and have a specific agenda to keep their yearly schedule down to about 20 dates a year, mostly area summer music festivals and a few headlining shows at smaller local performing arts centers. Mardirosian maintains a marketing plan that includes a complete merchandising package. As the band has continued to record and release new original material, he has succeeded in getting airplay on regional radio stations, and maintains social media contact with their fans offering virtual concerts through their website https://mandrrush.com/. 
Discography 
1980 Reach for the Stars (DSA 101) 
Four-song 10" EP. 
2003 Rock & Roll Chicago (Ready 6210-3) 
2004 The Thrill of the Chase (Ready 6250-4) 
2007 "Keep on Rockin' (Ready 7030-7) 
2011 Alpha (Ready 1006-11) 
2015 An Evening With M&R Rush Live at The BAC DVD (Ready 05091-5) 
2018 Between the Lines (Ready 0721-18) 
Eminar 
1984 Set the Streets on Fire (Ready 11148-3) 
1986 Goodbye City Lights b/w First Time I Saw Her (Ready 8512)
M&R RUSH -- "Between The Lines" (Eminar Music/Ready Records) 
"Between The Lines" is the sixth and latest album by this veteran group who has rocked since the mid-1970s with the original line-up intact. The M&R guys always deliver just what their fans expect of them -- straight ahead guitar-driven rock with a '70s/'80s flavoring that recalls the many arena rock groups who inspired them. What's always been pleasing about M&R albums is how the songwriting is as good or better than that of their more famous, classic rock contemporaries. That holds true again on the dozen tracks here, with the John McFarland-written title track opening on a strong note and setting the tone of what's to come. 
"Between The Lines" is different from past M&R albums in that it's more diverse, with songs covering broader ground, such as the Jeff Luif-written "Sky," and Paul Martin's delightfully abstract "When Melvin Drives The Bus." This is a solid collection, enhanced by "Reckless Love," a tune written by  Jim Peterik. While they kill it when covering Head East's "Never Been Any Reason" at the end of the album, one wishes they had instead used the space for another of their original tunes. More: mandrrush.com.
- Tom Lounges Review - Top Ten Albums of 2018