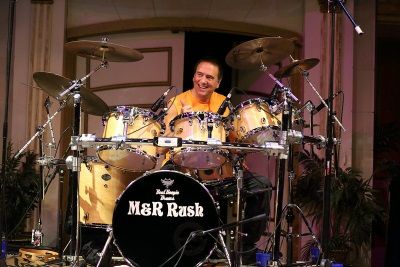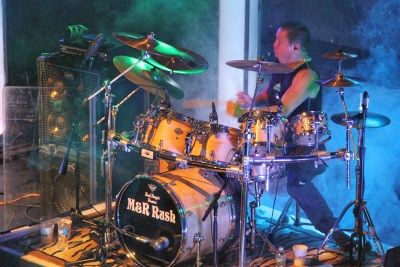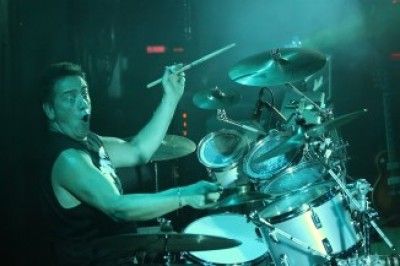 DRUMS                   CYMBALS
A. 14 x  5 SD                1.14" New Beat Hi-Hat
B.  8 x  6 TT                 2. 8" Splash
C. 10 x  8 TT                3. 16" Medium Crash
D. 12 x  8 TT                4. 18" Medium Crash
E. 13 x  9 TT                 5. 10" Chinese  
F. 18 x 16 TT                6. 21" Medium Ride (100 years old*) 
Marty Mardirosian - Drums
One of the founding members - and the "M" in M&R Rush - Marty Mardirosian's style is hard hitting on stage and off. Born in March, in Chicago, Mardirosian's fate as a drummer was sealed at the age of 9, when he had the opportunity to play legendary drummer Gene Krupa's drums after a performance. Their paths crossed for an instant, but like Krupa, Mardirosian would also become known for his "driving drum style and dynamic sense of showmanship." 
Mardirosian's roots as a drummer span three generations and date back to grade school, where he met Roger Hirtz -- the "R" in M&R Rush in little league -- and in 1970 formed the band M&R Rush, the first and only band for both. Mardirosian's competitive nature has contributed to his success on and off the stage. His determination as a high school wrestler earned second place honors in the city of Chicago finals. In 1970 he considered a career in politics after being chosen to be Chicago's "Mayor for a Day" by the late Mayor Richard J. Daley. 
Mardirosian holds a bachelor of science degree in Personnel Management from DePaul University -- knowledge that has proven invaluable in negotiating deals in the entertainment industry and building his own successful career. 
Known for his wild but precise chops - and signature bubble gum -Mardirosian developed his own unmistakable style of high energy, highly polished drumming. Marty plays a Custom Kit made for him by Beat Boogie Drums, Rogers drums, Zildjian Cymbals and Chews BUBBLICIOUS GUM!! 
The following endorsement is from the "Beat Boogie Quality Drums" official myspace page..... 
Beat Boogie Quality Drums proudly endorses M&R Rush drummer and friend Marty Mardirosian. M&R Rush had its beginnings in the early 70's and the band is currently on their 2020 "Let's Do It...AGAIN!!!" Tour. With over 40 years experience in performing and releasing multiple albums, Marty brings a wealth of talent and experience to the M&R table. 
Marty, with a traditional drum style and approach has added a beautiful Birch wood drum set to his roster of custom & vintage equipment. ROCK & ROLL CHICAGO & BEYOND! Longtime friend and fellow drummer Steve Crabtree and the Beat Boogie Drum line wish Marty continued success and we are honored to receive his stamp of approval.