Remember Them?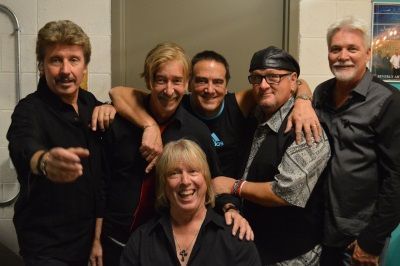 M&R Rush had its beginnings in the early '70s when a group of five high school friends from Chicago's Roseland neighborhood had a dream of making it in the music business. It wasn't long before M&R Rush had won a couple of "Battle of the Bands" contests and started to build a following.

Within a year M&R Rush was signed by the same Chicago-based management company that was guiding another local Chicago group called Styx. M&R Rush opened a string of high school and college concerts for the band before Styx became national recording artists. This gave M&R Rush instant recognition with the 1,500 to 2,000 fans that came to all the shows.

The word was now out about this hot new band and high schools and colleges were booking M&R Rush based on their reputation to put on a great show and draw a huge crowd. During the early '70s, M&R Rush performed at over 100 different schools and colleges to sell-out crowds nightly.

As the band matured, they took their show on the road to the college club scenes in Illinois, Indiana, Wisconsin, Ohio, and Iowa. There they rocked the Red Lions in DeKalb, Champaign, and Normal. McCabe's and McFly's in Carbondale, Ted's Warehouse in Charleston, Headliners in Madison, Wisconsin, and Junies in Dubuque, Iowa just to name a few. The management of these establishments was not prepared for the crowds that came to see M&R Rush and, on many occasions, asked, "Who are these guys"?

Moving into the Chicagoland club scene, M&R Rush joined the likes of other local bands such as Survivor, Cheap Trick, and Tommy Shaw, before he joined Styx, looking for that national recording contract. During this time M&R Rush drew packed houses at Haymakers in Wheeling, The Spirit in Downers Grove, Haywires in Burbank, Point East in Lynwood, Monopoly in Palatine, B'Ginnings in Schaumburg, The Thirsty Whale in River Grove, Mothers and Huey's in Chicago.

As the band's following continued to grow, their mailing list also grew to over 10,000 fans. (No such thing as E-mail then.) The band used this to their advantage to book their own sold-out shows at various theaters throughout Chicagoland.

In 1980, "The Loop" radio in Chicago chose M&R Rush to be on their first hometown album. The song "Rock & Roll Chicago", written and performed by M&R Rush, became the most requested song off the album and finished at #45 for the year at that station.

With their popularity high, M&R Rush released an EP titled "Reach For The Stars" and promoted its release by performing in their hometowns at Chicago Fest, Loop Fest, Hammond Fest, Oak Lawn Fest, Chicago Ridge Fest, Berwyn Fest, and more while also hitting the road performing in a fourteen state area in the Midwestern United States.

During this time M&R Rush shared the stage with and opened shows for Styx, Survivor, Sammy Hagar, Judas Priest, Black Oak Arkansas, Head East, and the Go Go's.

With the music industry changing and record companies looking for new acts who sounded like Flock of Seagulls or at the other extreme Motley Crue and other hair bands, M&R Rush disbanded in 1987.
The band members kept in close contact at an annual golf outing for the former road crew and band. Every year at the outing the question would be asked, "When are you guys getting back together?"
At the 2002 outing, thanks to an impromptu jam session, it was decided that the summer of 2003 would mark the return of M&R Rush. With the help of Jim Lenz from Paradise Artists, M&R Rush has performed over 200 shows, to date, in spring and summer since their return at summer fests, theaters, and clubs in Illinois, Indiana, and Michigan. The response has been tremendous as performances included shows with Paul Rodgers, Blue Oyster Cult, Pat Travers, REO Speedwagon, Survivor, Kansas, Starship featuring Mickey Thomas, Head East, Uriah Heep, Foghat, Jim Peterik, the legendary Temptations, and a performance with Chicago legends The Buckinghams and The Cryan Shames at the Star Plaza Theatre in Merrillville, Indiana.

M&R Rush music has also returned to the airwaves as regional radio stations have featured live-unplugged performances of M&R Rush and music from six recently released CDs. In 2014 the band released a DVD titled "An Evening with M&R Rush: Live at the BAC" featuring a live performance at the Beverly Arts Center in Chicago.  In 2018 the band released a new studio album "Between The Lines" featuring 9 new M&R Rush songs as well as a previously unreleased song written by Jim Peterik of Ideas of March and Survivor fame. 
Thank you so much for all your support!  Hope to see you at our current 
" '22 With You" Tour
Check the "Tour" section of the website for venues and tour dates!!!

Keep On Rockin!!!!
Marty, Roger, Carl, John, Paul, Jeff.
M&R Rush