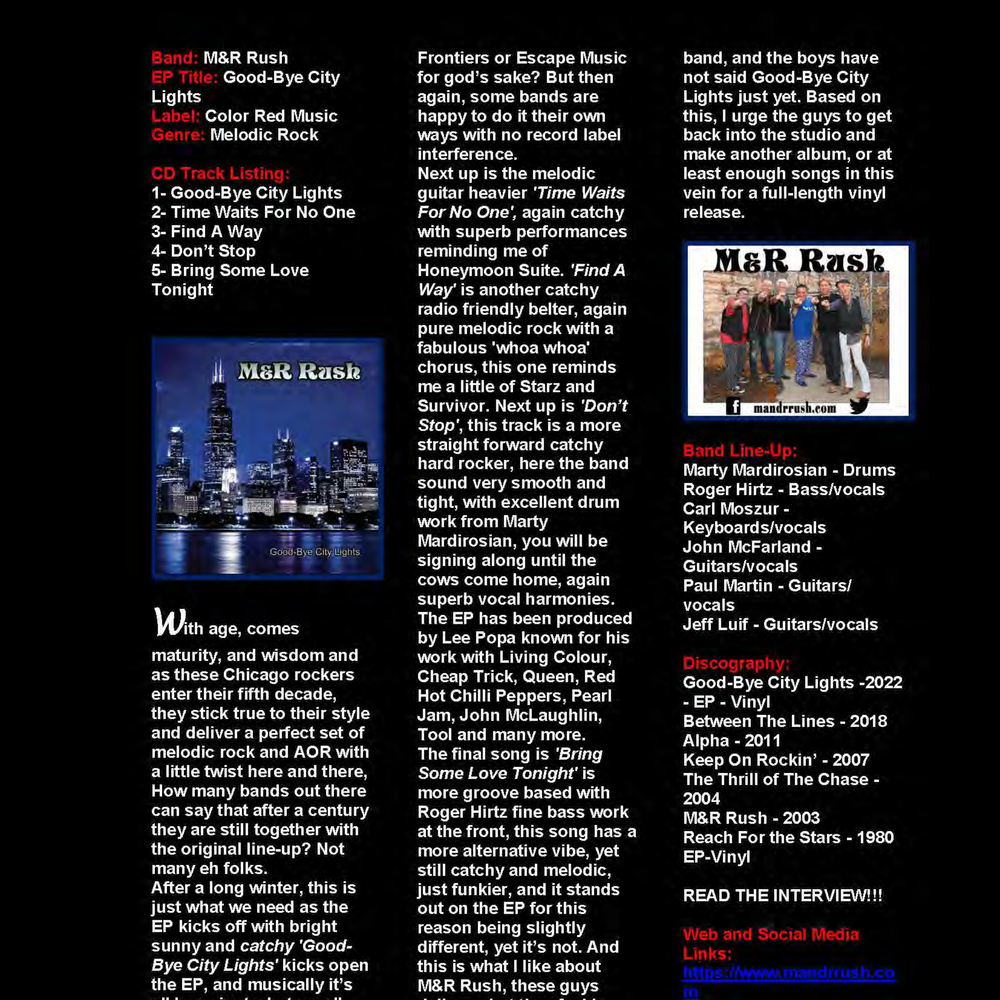 Powerplay Magazine in the UK contacted us and did a nice review of our latest record "Good-Bye City Lights" Here is the review.
M&R Rush releases album of new music: 
"Good-Bye City Lights" 
Feb 14, 2023 
M&R Rush, a long-running classic rock band from the South Side of Chicago, recently dropped its latest album, "Good-Bye City Lights." 
The group, which frequently performs live shows in the Region, had a record release party at the Hobart Art Theater in downtown Hobart. 
"In 2022 we signed a global distribution deal with Color Red Records based out of Denver, Colorado," said drummer Marty Mardirosian, a Dyer resident. "They wanted to release a record which best represented the sound and style of music that identifies who we are." 
They recorded the record at Star Trax Music Productions in Mokena. It took seven months to record, mix, master and press the album. 
Listeners should expect "a cohesive sound built around unforgettable melodies, a driving rhythm section, blazing guitars and the group's trademark four-part harmonies," Mardirosian said.  
The songs are drawn from life. 
"Over time as we've gotten older the themes have matured from lost love and partying to dealing with adversity in life and guiding the next generation," he said. "If our fans can say 'yes I can relate to the message there and I've experienced the same in my life' then the music becomes much more special to them." 
The classic rock band draws on major influences like the Beatles, Queen, Yes, Bad Company, Chicago, Styx, Van Halen and Def Leppard. 
"Over time our sound has pretty much stayed consistent. We are a Classic Rock band," Mardirosian said. "We are proud of the influences that helped shape our sound and there is still a large audience that can't get enough of this genre." 
M&R Rush started in the early 1970s. A group of high school friends from Chicago's Roseland neighborhood got together, formed a group and won a battle of the bands. 
They were inspired by the energy of rock and roll, Mardirosian said. 
"We all began playing our selected instruments in grammar school," he said. "At that time there was no YouTube and we saw other bands on TV on Sunday nights or the local high schools. Then you'd drop a needle on a record and the energy captured you as it jumped off the vinyl. We all felt it and wanted to create it." 
The group frequently performs across Northwest Indiana and greater Chicagoland. 
"During live shows, you connect with the audience on many levels. The give and take of the energy can come from the music itself and/or the lyrics," he said. "When writing songs you sometimes imagine the audience on its feet during certain sections of a song. The goal is to connect on that level as well as writing a great melody with lots of energy." 
Even after decades, the group of best friends still gets a thrill from creating new music connecting with live audiences. Mardirosian said they love "seeing people relive their youth through music and enjoying our original music." 
M&R Rush is back in the studio this year and looking to release a new record in 2024. 
"Many of the people that attend our shows have seen us when they were in high school and enjoy hearing the classic/melodic rock that our music was influenced by from our youth," he said. "Back when we started, we would play 200 dates a year and back up such acts as Styx and Reo Speedwagon. When we play live now we perform a few tunes from these artists that influenced our music." 
The album is available at independent record stores, Amazon, Target, Best Buy, Barnes & Noble and music platforms like Spotify.  For more information, visit mandrrush.com.Top of Form